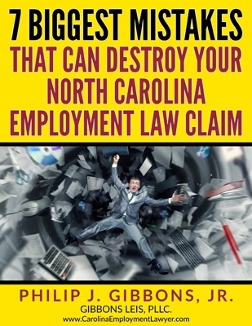 Attorney Phil Gibbons wrote 7 Biggest Mistakes That Can Destroy Your North Carolina Employment Law Claim to share helpful information about employment lawsuits and the lawyers who practice in this area of the law, but that's not the only reason.
He also wants readers to understand that too many workers file lawsuits against their employers that they have little or no chance of winning. Because sometimes, the best advice you can get when you are thinking about filing an employment lawsuit is: "Don't waste your time and money hiring an attorney. You do not have a claim that can be won."
At Gibbons Law Group, if you do not have a case, or if we do not believe it is in your best interest to file a lawsuit, we will tell you. But, if your case meets our stringent requirements and we accept it, you can be assured you will receive personal attention from every member of our law firm. We will answer your questions, keep you up to date on what is happening with your case, and advise you on how to obtain the best outcome, whether through settlement or trial. We all know that bad things happen to good people.
Download our book for guidance finding the right employment lawyer and knowledge about how to avoid seven of the biggest mistakes that experience has shown can destroy an employment law claim. The information in this book is intended to help increase your odds of winning your employment law case whether you are still employed or not.